SAIPH Knee System
Dr Talbot took part in the multi-centre clinical trial for the new SAIPH Knee and enjoyed a 96% good or excellent result from his patients.
Patients reported their preference and cited:
Improved feelings of stability,
Greater normality, and
More strength on stairs.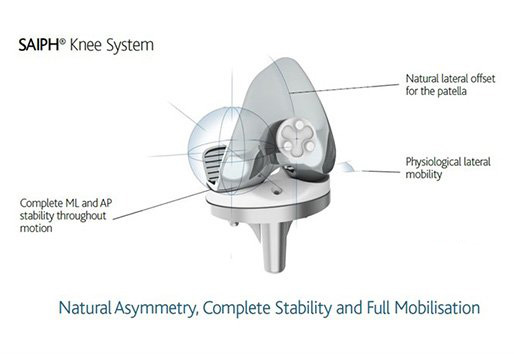 5 Year Saiph Trial Results
The overall data from this study (cited below) showed:
Significant improvement postoperatively (p<0.0001) for all PROMs measures higher OKS and KOOS than previous TKR cohorts
98% responding good or excellent against the Kalairajah Scale
Better Forgotten Joint Score (FJS) than previous TKR cohorts and equal to UKA No AP instability
Good mechanical alignment
No progressive lucent lines and no non-progressive lucent lines >2mm No osteolysis
Very high rate of satisfaction
Introduction
In normal, healthy knees the shapes of the medial and lateral tibial condyles are different:
the medial side is concave;
the lateral side is convex.
Stability is provided collectively by the collateral ligaments (MCL and LCL), both cruciate ligaments (ACL and PCL) and the menisci.
The resulting pattern of movement during flexion is asymmetric: the medial condyle is stable throughout the range of motion, while on the lateral side there is limited freedom for anterior-posterior translation (tibia with respect to femur).
The anatomy of the patellofemoral articulation is also asymmetric: the femoral trochlea is lateral to the midline and the patella has a larger lateral facet than medial. As a result, normal patellar tracking is asymmetric.
The SAIPH® Knee is the 2nd generation medial ball and socket knee, evolved from the Medial Rotation Knee™ (MRK™) that has been in clinical use for over 20 years (first implanted in 1994).
Like the MRK™, the SAIPH® Knee was designed on the principle that by providing
natural asymmetry across all three compartments,
better function and
increased patient satisfaction can be achieved without the compromises of other total knee replacement designs.
The design principle was proven with the Medial Rotation Knee™ and is now demonstrated with the SAIPH® Knee.
Success of the MRK™
Overall, the MRK™ has been shown to provide greater inherent stability than comparator devices.
Patients notice the difference, and express that they prefer the medial ball and socket design over posterior-substituting (PS), cruciate retaining (CR) and mobile designs, citing
feelings of stability,
normality and
strength on stairs as reasons for their preference.
With its lateralised trochlea – where standard TKR devices have a central distal trochlea, the MRK™ has been shown to exhibit a more normal patellar function.
By accommodating natural function in all three compartments, the MRK™ design provides better restoration of range of motion (ROM) when compared to a standard PS knee design [8] with a mean ROM equal that of a 'high-flex' knee [9].
When compared to all other TKR designs, NJR collected patient reported outcome measures (PROMs) show that the benefits of the MRK™ are reflected in higher functional scores [5,8,10] and improved rates of success and satisfaction [3,5,10].
The MRK™ also provides better high-end function. For categories of daily living, sport and exercise, and movement and lifestyle included in the total knee function questionnaire (TKFQ), patients scored significantly better 1 and 2 years postoperatively when they had received an MRK™ compared to patients who received a standard PS knee, where patients who received the comparator device were better preoperatively (although not significantly).
Clinical use of the SAIPH® Knee
The SAIPH® Knee has been in use since July 2009. Usage is growing, with over 4,000 procedures in the UK, Europe and Australia to date.
A global clinical data collection program on the SAIPH® Knee is ongoing, with excellent results to date. Studies include.
Knee Function
A fluoroscopic evaluation for the SAIPH® Knee included a consecutive series of 14 knees (mean 69 years old, range 51-83) with no exclusions.
Knees were assessed at minimum 24 months postoperatively. The study found no anterior translation of the femur in flexion for any passive or weight-bearing activity, confirming the design's inherent full ROM stability. Lateral translation (rotation) was permitted when required, like the normal knee.
The passive postoperative ROM was mean 127° (range 100°-155°) and the active weight-bearing ROM was mean 121° (range 97°-151°), which are higher than values reported elsewhere for PS and CR designs. This demonstrates that the SAIPH® knee permits the maximum flexion that would be expected in a normal knee (152° -154° flexion).
5 Year Study Data: Australia
5-year postoperative data for a cohort of 100 SAIPH® knees (92 patients) performed in two centres has been reported. This study included comprehensive evaluation of knees with
7 patients reported measures (PROMs),
4 physical examinations (RoM, stability and efficiency) and
3 radiographic assessments (alignment and loosening) in line with demographics (typical population).
Unlike recent reports on patient satisfaction after total knee replacement the SAIPH® knee cohort did not display a 20% dissatisfaction rate (Figure 1).
Results of self-rated outcomes
The study group report that the SAIPH® knee provides restoration of near normal knee movement, significant improvements in outcome measures, has a low rate of revisions and an extremely high rate of patient satisfaction.

You will need the Adobe Reader to view and print the above documents.