Cost of Surgery
We participate in all the available No Gap or Known Gap schemes in order to minimise or completely remove your out-of-pocket costs for surgery.
Initial Consultation Fee
The initial consultation will incur a fee. The Initial Consultation fee is $200 of which $72.75 can be claimed back from Medicare. This fee is payable at time of appointment and we can bill the rebated portion directly to Medicare for you.
Explanation of Surgical Fees
We charge considerably less than the fees recommended by the Australian Medical Association.
Our clinic policy is to charge either No Gap or a Known Gap for surgical procedures. This means that we participate in all the available Gap schemes (such as Bupa Medical Gap Scheme, Medibank Private GapCover scheme, HCF Medicover scheme and NIB MediGap).
Whether you will be charged a No Gap or Known Gap depends on which insurance company you belong to and your level of cover. By participating in all the available Gap schemes, we can limit your out-of-pocket costs.
Estimates
We offer informed financial consent to all our patients prior to surgery. This is a pre-treatment estimate of your surgical costs. If you would like an estimate of likely costs prior to booking your initial clinic appointment, then just ask us and we can supply it.
If you require more information, please do not hesitate to call the practice during office hours.
Other Possible Costs
There may be other costs involved in your care depending on which type of treatment you require. You need to also check with your health fund to see what is covered. Potential areas of cost are: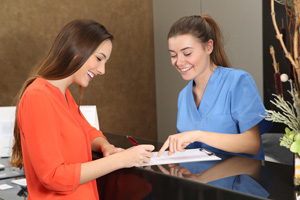 Hospital
Surgical Assistants
Implants or Prosthesis
Anaesthetists
Tests (Radiology, Pathology)
Postoperative Care
Health Fund Excess
The out-of-pocket charges required by our anaesthetists and surgical assistants are not set by us. These often vary depending on you level of cover. We can give you an estimate of these costs prior to booking surgery. Once you are allocated to an operating list we will give you the contact details of the anaesthetist and surgical assistant should you wish to obtain the exact amount their services will incur.
Prior to surgery radiology and pathology tests may be required. These may require additional costs. Contact us and we will let you know if there are Bulk Billing options available.
Usually the hospital stay, any implants required, and the postoperative care are all covered by your insurance.
If your private health insurance company requires the payment of an excess they will take this on the day of the procedure. Contact your insurer to check your policy and the excess.
Types of Private Patients
This practice caters for a range of Private patients, these include:
Private Health Insured
Department of Veterans Affairs (DVA)
Self-Insured (Uninsured)
Private Health Insurance
Our practice accepts all private health insurance. Our staff have a good understanding of the private health insurance and if you have any concerns or questions please contact us. We will give you all the information you need to talk to your insurance company.
Department of Veterans Affairs (DVA)
The Australian Government's Department of Veterans' Affairs (DVA) provides support to current and former serving members and their families through a range of benefits (including ongoing or one off payments). Our practice has a No Gap policy for DVA card holders. For further understanding on how you can apply these benefits to our service and the scope of cover please refer to: http://www.dva.gov.au/benefits-and-payments
Self Insured (Uninsured)
If you are self-funded (no private health insurance), the full hospital fee is payable on admission.Patients may be able to choose private admission even if they do not have private health insurance. Self-funded patients will be liable to pay the following:
The gap between the Medicare benefit and any specialist's charge
The gap for diagnostic services (medical imaging and laboratory)
Hospital accommodation fees (bed charge)
Surgically implanted prostheses
Essentially this means you must meet all costs of the admission yourself except those covered by Medicare.